Since 2006, Dr. Joan Cartwright published 14 books related to music, women in music, and her experiences as a jazz/blues singer, composer, and educator. With Amazing Musicwomen (2008), Dr. Cartwright taught over 10,000 students in the tri-county area of South Florida about women in jazz and blues. Her lecture on Blues Women: The First Civil Rights Workers (2018), a 50-minute presentation, has been well-received and continues to be in demand by colleges, libraries, and national organizations like the African American Historical Society in Pensacola, NLAPW, and WIJSF. Joan's books are educational and inspiring, especially for young people interested in the music industry and the history of jazz and blues musicians, particularly, women instrumentalists. Visit http://wijsf.org and http://drdivajc.com
Link to Joan's essay: The Sign of the Blues
After six years of study, my doctoral dissertation is now available for the world to read.
Cartwright, J. (2017). Women in jazz: Music publishing and marketing (Order No. 10265410). Available from ProQuest Dissertations & Theses Global; ProQuest Dissertations & Theses Global: The Humanities and Social Sciences Collection. (1894606316). Retrieved from https://search-proquest-com.prx-keiser.lirn.net/docview/1894606316?accountid=35796
Also, it is for sale at http://lulu.com/spotlight/divajc
In 2019, I published my 2014 paper as my 14th book, Blues Women: The First Civil Rights Workers. Although it is tiny, this book is packed with information about 11 powerful women who brought the Blues genre to the attention of millions of Americans. At a time when Africans in America were subjected to Jim Crow laws that further degraded their existence, women like Mamie Smith, Gertrude "Ma" Rainey, and Bessie Smith stood their ground on stages across the nation, bringing joy and entertainment to thousands of people, white and black. Their songs are current, today, and their message of the upliftment of the human spirit helped to raise the consciousness of a nation that was built on the backs of their ancestors. Buy this book at www.lulu.com/shop/dr-joan-cartwright/blues-women-the-first-civil-rights-workers/paperback/product-23486947.html
Papers: Conscious Inclusion of Women Musicians
Media:  Interviews, Musicwoman Radio
Conscious Inclusion of Women Musicians is published at Versita. I am published in journals. This is my second published work. The first one is 1993 in IAJE Research Journal – The Sign of The Blues, which is the first of 3 essays in my book A History of African American Jazz and Blues. The other two essays in this book are (2) Jazz: The Unmasked Rhetoric and (3) The Cultural Politics of Commercial Jazz.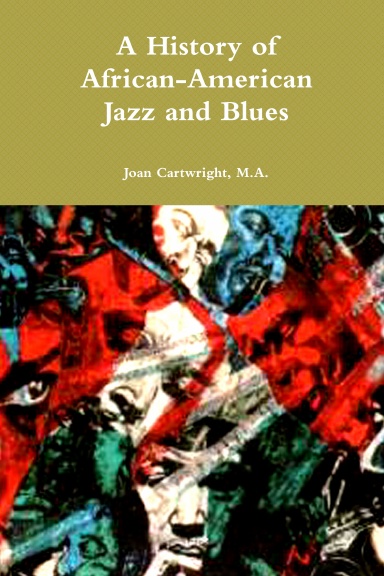 A History of African-American Jazz and Blues
Three essays and interviews with photographs by author and musician Joan Cartwright about the creation of blues in America by Africans captured for servitude on Euro-American plantations over a span of 400 years.